Dinelli Franco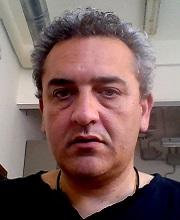 Professional Profile:
Researcher (Employee)
Activity field:
Research
Main office/laboratory:
Sezione di Pisa
Office phone number:
050 315 2564
Laboratory phone number:
050 315 2566
E-mail:

ResearcherID:
C-2511-2009
OrcidID:
0000-0001-9467-4337
ScopusID:
6603822204
Primary activity:
Scanning probe microscopy applied to thin films of polymers and oligomers, and 2D materials.
NanoMOKE analysis down to 10K of magnetic and nanoparticle/polymeric films.
Main experiences acquired:
Scanning probe microscopy.
Viscoelastic properties of thin polymer films on the nanoscale.
Growth of organic films for optoelectronic applications.
Buried interface analysis.
Scientific manager for INO of Funded Projects:
Nanoscale phenomenon in relaxor ferroelectric thin films
Research Groups:
Membrane scanning
Others Funded Projects in which he/she participates:
Nanotechnology-based therapy and diagnostics of brain diseases (NANOBRAIN)
Publications, Research Results, now, in INO's database are:
83
  –   Papers JCR/ISI Journals, are:
69
  –   Books or Chapters, are:
3
  –   Papers in Journals not indexed JCR/ISI, are:
0
  –   Conference proceedings, are:
9
  –   Abstract, are:
17
Bibliometric indices are calculated USING ONLY THE INO DATABASE and the number of citations from "WEB OF SCIENCE" (of Thomson Reuters) is updated at
2023-12-03  –   maximum number of citations for an article:
553
  –   maximum impact factor (IF) for a journal when an article is published:
15.941
  –   H-INDEX:
26 
  G-INDEX:
63 
  HC-INDEX (contemporary):
12 
  –   List of
TopTen
papers in citations  –   List of
TopTen
journals in Impact Factor